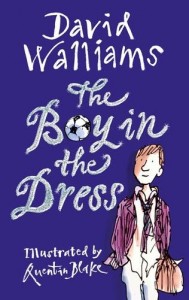 The differentiated objectives for this lesson were devised by using the 2011 National Curriculum attainment targets for English Reading at Key Stage 2.
Ideas to follow work around 'The Boy In The Dress' by David Walliams. The lesson covers themes of prejudice, gender stereotypes and homophobic bullying.
The main activity of this lesson is to write content for a reference/evaluation page on the Schools OUT website for this book. Using the Boy in a Dress Wikipedia entry as a model. We will upload any submissions onto our site. To add pupil content to an evaluation/reference page of this book, please download the following plan. Your classes' content could appear here.
The plan below can be undertaken as one lesson after all of the class have read the book- a sort of super plenary; or teachers may wish to use each slide in the presentation as a topic/discussion starter after that particular chapter, over a period of weeks.