GET YOUR FREE LGBT HISTORY MONTH RESOURCE PACK!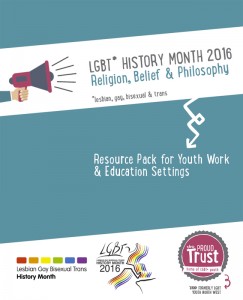 The Proud Trust has teamed up with Schools OUT UK to bring you this free LGBT History Month Pack for February 2016. The theme of History Month is 'Religion, Belief and Philosophy: A Leap of Faith'.
The pack is full of handy session plans, ideas and a useful FAQs section. Click the link to access: LGBT History Month Pack 2016.
An accompanying easy to use PowerPoint for assemblies can be downloaded here.