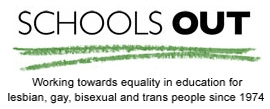 www.schools-out.org.uk
The purpose of this site is to inform, give legal guidance and support teaching staff and children within schools. There is a wealth of useful information to be used and useful links to many organisations. This is also one of the few sites that has a comprehensive coverage of Trans, as well as LGB.
Grading:
Web Address: www.schools-out.org.uk
Absolutely true
Almost true
Somewhat true
Not really
Not at all
Use of Site
No expertise in LGB T issues needed
√1
LGBT inclusive
√2
Other equalities strands
√3
Authoritative
√4
Comprehensive
√
User friendly/easy to navigate
√5
Accessible at any level
√
Useful links to other sites
√6
Education Materials Provides  Student Tool Pack (very comprehensive) Teaching Pack See separate audit sheets for details.
Teaching Materials
√7
Lesson Plans
√8
Materials easy to use
√9
Follow up opportunities
Differentiated
Clear time frames
Good one-offs
Cross-curricular opportunities
---
Notes:
None needed. News feeds are clear, documents are generally comprehensive and user friendly
This is one of the few web sites that sets out to and quite clearly covers LGB and T strands.
There are clear links and discussion forums for Disability, Age. Religion, Race and Ethnicity.
The Policy and Law Section is up to date, 2010 Equalities Act. The Research section offers a range of quality National and International research to read through.
Clearly set out with a large, easily recognisable navigation tools. Pages are not too cluttered.
Links section is very comprehensive and well organised.
See: Student Tool Kit
See: Teaching Pack.
For additional information see specific audit sheets.
---