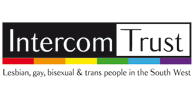 www.intercomtrust.org.uk
The Intercom Trust is a registered charity that serves LGBT people in the South West Peninsula. For a detailed analysis of this site,  its functionality and usefulness please see our grading table with notes below.
Grading:
Web Address: www.intercomtrust.org.uk
Absolutely true
Almost true
Somewhat true
Not really
Not at all
Use of Site
No expertise in LGB T issues needed
√
LGBT inclusive
√1
Other equalities strands
√
Authoritative
√2
Comprehensive
√3
Useful links to other sites
√4
User friendly/ easy to navigate
√5
Accessible at any level
√56
Education Materials
Teacher Materials
√
Lesson Plan
√
Materials easy to use
Follow up opportunities
Differentiated
Clear time frames
Good one-offs
Cross-curricular opportunities
Potential for usage in schools: The Intercom Trust supports LGBT people in the South-West of England. It provides resources for Schools, families and organisations that face LGBT issues.
---
Notes:
All referencing is to LGBT.
Referencing appears to be up to date, with regional and national issues picked up. Good local news section.
Very much a regional site.
See point 3.
Large clear buttons, help site navigation.
Clear and well set out site.  Excellent home page.
---