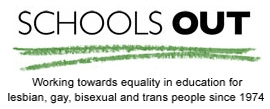 www.schools-out.org.uk/teachingpack/contents.htm
Factsheets, lesson plans and resources packed into an in-depth teaching pack from our main Schools OUT website.
20 Things A School can Do To Tackle Homophobia/Transphobia And Create Safer Spaces on page 16 offers practical advice to teachers and management.
For a more detailed analysis of this teaching pack, please check out our grading system with notes below.
Grading:
| | | | | | |
| --- | --- | --- | --- | --- | --- |
| Best Fit for Usage: Upper   KS2 KS3 KS4 | Absolutely true | Almost true | Somewhat true | Not really | Not at all |
| No other resources needed | | √1 | | | |
| No expertise in LGB T issues needed | | √ 2 | | | |
| LGBT inclusive | √3 | | | | |
| Other equalities strands | √4 | | | | |
| Authoritative | | | | √5 | |
| No subject knowledge needed (where relevant) | | √ | | | |
| User friendly | | | √6 | | |
| Accessible to students at any level | | √ | | | |
| Clear, measurable outcomes | | | | √7 | |
| Follow up opportunities | | | √ | | |
| Differentiated | | | | √8 | |
| Clear time frames | | | | √9 | |
| Good one-offs | | | √ | | |
| Cross-curricular opportunities | | √ | | | |
---
Notes:
Comes as a pdf. Pen and paper will be needed and some of the plans will benefit from larger spaces for children to use, to discuss and create circle spaces within.
Comprehensive, but very dense user notes that cover many of the many LGBT issues. They are dated ( 1990's).
LGBT covered, as well as race and some referencing to disability. This document is a rare source of Trans information.
See above.
This is a very dated document in terms of both legislation and approach to lesson planning. That said it contains man y good ideas.
Teacher notes are very dense and require careful reading. They do contain an excellent definitions section as well as useful question and answer sections.
Plans not created in a modern format, they will need adaptation.
As above.
As above
---